krish and i got up at around, what we thought was 10am on sunday morning. but, that whole moving back of the clock thing gave us an extra hour to start our day off. excitedly, we ventured off to see "american gangster" -- i posted the preview back in october, and said that i was very excited to see it.
got the tickets at 1:30pm for the 1:45pm show. geeked up. ran up in the theater, leaving my pregnant girlfriend behind me to find seats. we found the perfect seats, right in the middle of the theater. hyped. krish caught up with me and took her seat. we're both excited as hell and it seems like the cards are all working in our favor -- she's excited to see clifford harris and i'm excited to see the story of frank lucas unfold on the big screen.
*cue crickets
the fuckn' movie sucked. sorry. this movie was made for white america. what the fuck do i care about richie roberts?! the movie opened strong -- before the credits even came up... so, krish and i were like, "hell yeah!!!" but, after that it was like dragging a dead body up a project tower -- slow!!! where's the action? where's the cool drug trafficking montages?! why am i watching russel crowe in court fighting for custody of his son -- who gives a fuck?! ridley scott -- fuck you! with such a great cast working the harlem side, i'm upset. so, to all my homeboys, buy the bootleg at sante alley.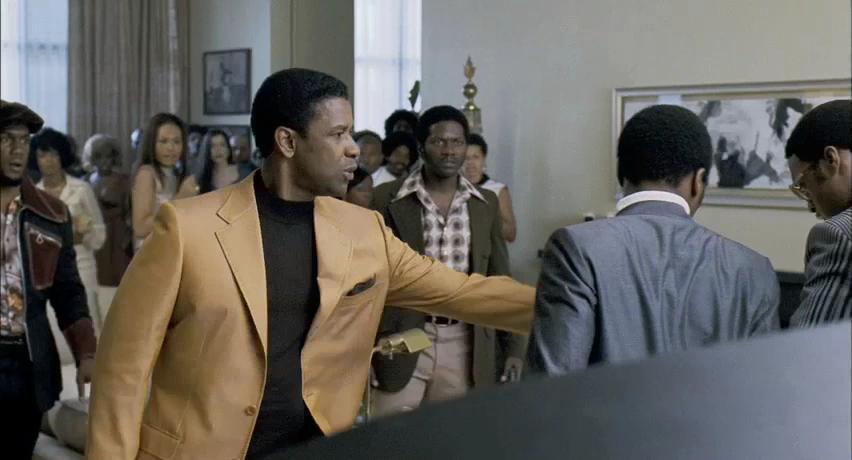 but you know what? i'm glad this movie sucks. if this movie was better than malcolm x (which it ain't) that wouldn't sit well with me. why the fuck do we idolize frank lucas anyway? because he flew to saigon to buy heroin? because he came from nothing and turned himself into the biggest heroin trafficker in new york? he killed a lot of his own people! a lot! with the biggest voice in the world today, we, as the hip hop generation, have decided to make albums based on the lives of these people... we've taken the names of italian mobsters, we put pimps in our videos and we treat the mothers of our people like cigarette butts on the street. why? jay-z can make any kind of record he wants. he can make a record about elmo and muthuhfuckuhs will buy it -- what does he do? jumps back in the studio after watching this weak ass movie!!! inspired by frank lucas. would he have done the same if they did a noteworthy movie on bobby seale? or assata shakur? probably not. let's stop glorifying those figures in our history and in our present who get rich over the graves of our own. c'mon, hip hop generation, wake up...