to the 3 returning readers of my rants, i apologize for not staying regular... wait, that sounded bad -- i mean, not updating as regularly as i usually do. i'm in the middle of mixing the new album, writing up last minute things for the album, still trying to rally up players on the album and helping with the logistics of the tour and album.
let's do some random recapping.
the album is sounding really good. i'm excited for the end result, and can't wait to tour with it. there are 2 tracks left to finish -- a song with zion i and the other a song produced by illmind. i recorded the album at fatgums' studio in l.a. and its been a very different experience. i used to record all my shit in chatsworth with my partner in crime, asi -- but that trek has been really difficult with my schedule, so i had to make a decision. recording in chatsworth (which have sessions that usually go in past 2am), or record at fatgums' studio in l.a. and be home in time to catch the simpsons? not saying that the only reason i'm recording at fat's studio is location. fatgums has a really good ear and i think it really matches the feel of this album. i decided to go back to the roots on this joint... simple songs that allow me to just speak. i think there are one or two tracks that might stir up some needed dialog, and others that really are just me speaking my mind. my son gets mentioned throughout the album of course!
we cut a bunch of tracks, which is always the hardest part of the album process, because you become attached to all of it. in the end, i chose the few that i felt gave the album a sonically thematic feel. we cut tracks produced by dj khalil, dj rhettmatic, asi and dj phatrick -- and i hope i didn't make a mistake by doing so! all the tracks i record or fuck with are top-notch, and all the producers mentioned gave me heat for the album. unfortunately, i had to make snips! i learned from the last album, that more tracks aren't necessarily better for an album. i don't want the album to be draining, or a labor to listen to. with "...exact change..." i put on 13 tracks! that's it!
this is fatgums in front of stax studios -- best picture i could find
anyway, we're mixing now, and we'll be mastering in the first week of august -- just in time to get it out by september 11th!!!
this past weekend was a lot of fun and packed with thangs-to-do! check
guerillabusfare.com
to hear a little bit about it. big up to my homeboy, geo for dropping a 16 acapella for the album! big up my brother sabzi for "life line" on the new album. big up to bee for letting my son punch him in the face. bee went "shark fishing."
sabz, bee, mee (oops), k to the bee and gee-o
lastly, i want to talk about something i went to peep on sunday at a theater in hollywood. my homeboy ise lyfe put on a one-man play titled, "who krazy?" my god! if y'all don't know, my man ise is a very celebrated poet out of oakland, as well as an accomplished rapper. but, to see him act out a one-man play (which is very difficult) is an experience all its own! i was floored. i've seen many one-man plays, and this one takes the cake! great job ise! i'll keep y'all posted when it comes back out!
oh, and please, please, please go pick up ise lyfe's brand new album that dropped yesterday --
PRINCE COMETH
!!! i got an advanced copy and it hasn't left the ipod yet!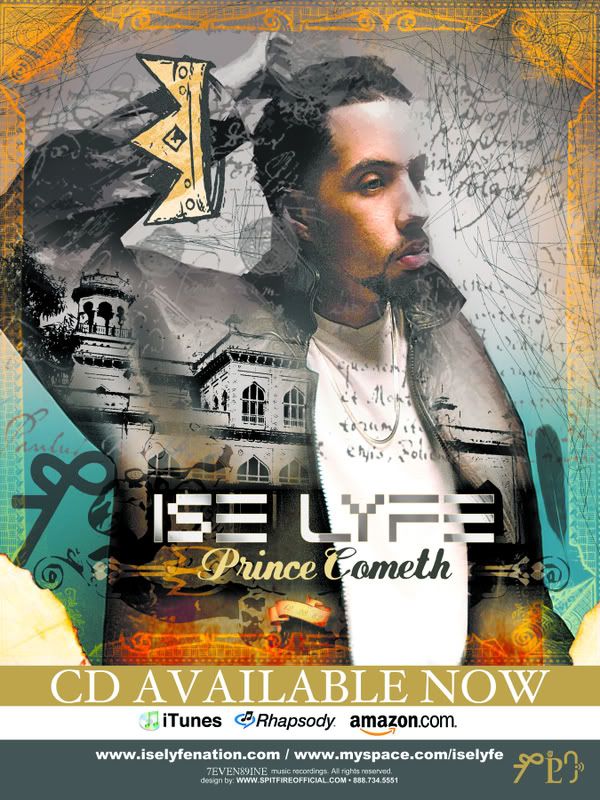 click the picture to hit my brother's myspace