what's up everyone out there in cyberland?! i apologize for being away (not that y'all really care), but i've been real busy with the planning and logistical work with the album.
anyways, it's out now! i'm happy with the album and i'm happy with the immediate response! we haven't even started our pr push or really started hitting the road with this album, but the sales have been REALLY good and the reviews have been outstanding. thanks everyone. we kept the september 11th date, but adjusted it for the bambu/native guns followers by putting it up on www.beatrock.com and in the local amoeba's first! in october, you'll see the album at local retailers up and down the west coast and on itunes.
recently, phat and i hit up san francisco's cafe du nord for the first date on our exact change tour. the lineup was one that i personally put together of some of my favorite bay artists:
ise lyfe - this brother's been doing it for a very long time, and i've been fortunate enough to be in this brother's circle, and privelaged enough to watch him grow as an artist and an organizer. get that prince cometh album!
do d.a.t - the best emcee to come out of the bay area since i've been alive! do d.a.t just dropped the mini-album, the skinny, and i'm telling y'all -- cop it. you'll love it. his performance is jaw-dropping and his ability to weave through a beat is one that inspires me to up my craft!
power struggle - on my first trip to nyc, i met up with my sister organization, ugnayan ny/nj and they kept asking me if i had heard of a young rapper named nomi. the name stood out, and when i finally caught on to the brother, i was pleasantly suprised to find that he was really down to earth and a great performer! power struggle, a group that nomi is a part of, recently dropped their album, hearts and minds, and again, i suggest y'all scoop that!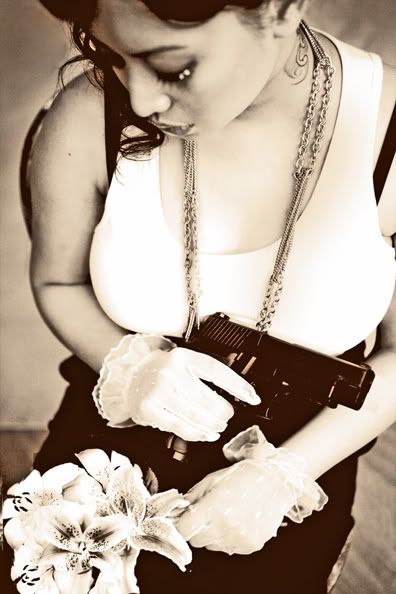 eyeasage - okay, i know what some folks might think. "bam's putting her on because she's his baby's moms, yo!" now, that's wack, but that just lets me know that you've never actually heard her music. i would never do no shit like that. for someone to even think that is an insult to me. i remember, before we were really dating, i saw her perform with the rapsodistas. she did this joint over the rick "the pig" ross' single, "hustlin" called, "married to the hustle." now, if you've ever heard that, you wouldn't be saying that stupid ass shit. eyeasage can spit. done. period. try and find that "married to the hustle" mixtape -- you'll hear it. look out for her album, "rocky rivera" dropping early next year.
emassin -- i first caught wind of this cat through the supergroup, elemnop from all over the bay. emassin did a joint with kiwi that i couldn't stop playing. through the years, i followed emass and was really impressed with his abilities as an emcee to hold down a live show (pistahan) and to make good records. purple yam cafe is that shit -- put $10 on that one too!
well, that's my rant for the hour. be sure to stay tuned for my breakdown of the "...exact change..." album.
san diego, i'll see y'all on thursday! serve the people.