the first two tracks on the new album,
...exact change...
!
fatgums
and i started to work on a side project earlier in the year, and "make change" was originally the intro for that project. but, after listening to it over and over again, i felt it screaming to be put on this album. fatgums flipped the malcolm sample perfectly! the dude is a genius. right now, fatgums is in med school! can you believe that shit?! so, that means our project is put on hold until he gets a break. i can only imagine how intense med school is -- fatgums sent all his studio equipment up to the bay so that he's focused on school. that's dedication!!! i admire that brother on so many levels. when we finally drop that mini-album... explosion all over your face! haha. sorry, that was inappropriate! the malcolm x snippet was taken from a speech called, "the ballot or the bullet" given on april 12, 1964 in detroit, michigan. originally, i had some folks slated to do more vocal snippets about change, but because of time constraints, we opted to just let malcolm do his thing.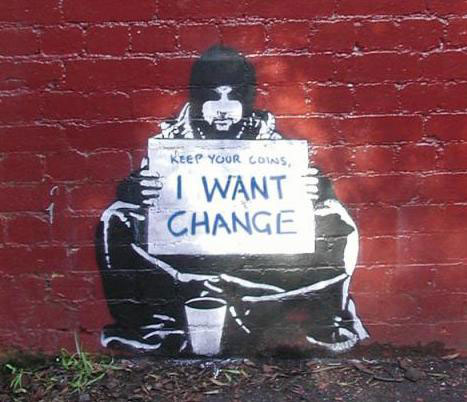 "spare change" was originally on a jay-z remixtape/mashup by the almighty
nick james
outta' the bay area! nick james worked on ise lyfe's album, "prince cometh" and that's how we first slapped hands. i ran into the brother at a performance of mine in oakland and we exchanged numbers -- i hit him up for some beat submissions and he gave me a whole double-album's worth of joints AND asked me to pick from the american gangster mashup remixtape he did. "spare change" was the beat he used for jay's "i know" track. but, that wasn't the beat i originally picked. i picked the beat used for "say hello" - but the brother ise beat me to it (it's on his new album, "prince cometh," so cop that). so, i fell back and re-listened. "spare change" is the beat my dumbass should've picked from jumpstreet! listening to the finished product, i'm VERY happy with it as the opener for the album!
it's the beginning of a new, 24 hours of a life that is lived like you
my paycheck's slim too
i'll spend a whole fridge full of groceries on shoes like you
and i'll regret it all too, the difference is
everyday i'm trying to build a better bambu
better for my son too
and better for the babies in my neighborhood who throw me up a deuce and yell,
"peace bambu!"
that's three generations all united by the same tattoo
that's why every little soldier where i grew up at
hit me up like, "kuya bam, where's my freedom at?"
i say i'm working on it
the homie laughed and shot back, "i got a hundred on it!"
i got the homie, nick james on it, i might not come close
but i'll always aim for it
and hopefully my son might get a taste of it
and see a president, and not a money-puppet
not the money-loving, country-running businessmen
and maybe we can see democracy that's really listening
and the end of all this bickering
call the philippines
they need to step in
solidarity's the key, resolution ain't going to come from geo, kiwi and me
one blood
one love
one bullet
one goal
exact change, i hope i get to put out twenty more!
any questions?