disclaimer: due to my inability to think like a smart person, i forgot to bring a camera to document the trip. idiot. so, hopefully more photos will surface... sorry.
wednesday: from san francisco, i took the hour and a half flight up to seattle via virgin america -- listening to my "northwest playlist" all the way up.
"what's on that playlist, bam?"
i'm glad you asked... i've got an equal mix of blue scholars, common market, jake one, d.black, silent lamb project, nam, gabriel teodros, khingz and macklemore all spinning in that roatation. this got me ready for the bumpy landing into sea/tac international...
got there at around 7pm and jumped into the civic with the homie/comrad/booking agent/fellow devil dog, bee, and we were off. got to the crib to drop off the gear and stretch out a minute before the night's dealings... sabzi was the first to greet me while working on a new mashup of "blow the whistle" by too short! the man is a genius. the homies sincere, freedom and nam met up with us at the spot to welcome me in. after deciding on a spot, we hit up cee lounge (sp?) and the festivities began. let's just say i don't really remember a whole lot about my first night out in seattle. good time.
thursday: woke up before 9am and got ready for the day. after trying the local 'silog breakfast, we got it popping. now, one of the objectives mapped out by bee for me was to hit up the local youth in the area to try and get them out to the show on saturday for some good music. great plan. it was really good for me to meet and build with some of the local youth of color in the 206 and find out first-hand, from them, what social issues they feel affect them within their communities, and even globally.
we (nam and i) started out at franklin high school and spoke briefly to mr. hutchinson's class. wow. this guy, "hutch," was teaching "Fahrenheit 9/11" to his high school class. very impressed with what hutch had in store for them. i wish i had teachers like this in high school. thanks franklin high school!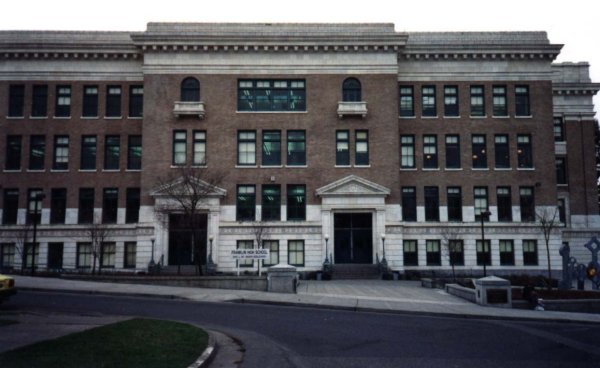 franklin high school
then, we shot over to renton high school to meet up with the culture club, facilitated by the lovely ms. antes, and talk to the youth there. this was a little more focused on nam and i as artists, and the students got to have a nice q&a with us. beside bee putting me on blast with my cameo in indiana jones, the interaction went well. i take for granted how intelligent this age bracket is. in fact, i was very impressed with the students and am excited for them and their futures! it was nice hanging with y'all! oh, by the way, did you guys win that volleyball game?!
renton high school
got back to the crib and started writing for the sabzi/bambu project. i'm stretching my rhyme-delivery out with this one and i'm having a lot of fun doing it.
for dinner, we ate at this vietnamese restaurant (which i won't put on blast by naming it) -- nam approved. downstairs was nice. family friendly, children running around in the lobby of the restaurant, families eating huge meals, laughing, etc. not enough room for us, so, we were offered the upstairs dining area. hhhmmm... indeed. you ever wonder if, or when, we'll ever invent a portal that can warp a human being from one place to another, very far away place... in a flash?! well, that's what this was like. as soon as we hit the upstairs "dining" area, bang! thick cigarette smoke, no children, no families, 3 women (2 were hostesses) and music that seemed to come to a screeching halt as soon as nam, bee and bam walked up in the spot... we did not belong here, and some of the stares let us know that. exciting! after our initial concerns of a possible restaurant brawl, we enjoyed our duck soup (bomb) and cubed beef! holler. we were later met by freedom and rj. after that, back to the crib and into a deep sleep.
friday: up and off. sabzi, bee and bam... lunchtime at mercer middle school to hang with the kids during their filipino history month lumpia-lunch. the homie sam brought us up to enjoy the eats and get a brief history behind "ultimate frisbee" (mercer middle school currently holds the championship for this sport) -- thanks, brother! oh, but before we could get our hands on the lumpia, we had to do a word-find puzzle of tagalog words. i'm not proud of how long it took me to complete this thing... sheesh.
later in the afternoon, sabzi and i hit up chief stealth high school to meet the filipino club. awesome. we traded questions about community involvement, my music, local issues, etc. brief but inspiring. peace to chief stealth high school! i hope to come back and build with y'all again very soon!
after sabzi and i left, we scooped the homie geo and we headed southbound to portland for a blue scholars/common market show. the last time i saw the scholars do their thing was about 2 months ago at the el rey when they came down for the freshly dipped tour in l.a. i've always enjoyed the scholars' set! geo's ability to hold it down dolo and sabzi's ability to throw swag behind the tables is always fun to watch -- but, to see them now, after the tour's wrapped, it's amazing how much they've progressed as a stage show. geo flawlessly weaved in and out of songs, interacting with the crowd very comfortably and flipped their own joints perfectly. it was inspiring. i'm glad i rolled. oh, and we got a fuckin' ticket on the way back up. we're going to blame devin the dude's music for that one... got home at around 3am, ate a turon a bought earlier that day, chopped it up with sabzi a little bit more and crashed out.
saturday: game day. got up and got all my merchandise ready for the night's events and before we had to bounce out and grab kat and phat from the airport. after grabbing the fam, the routine began: soundcheck, wait, wait, wait... showtime!
kore ionz opened up the show with a really great reggae set. the band was on point. definitely a new addition to the playlist! they performed for a small crowd, but jammed like 1000 people were listening... i hope to get to that level of performing someday!
nam and daps hit the stage next... fresh from his almost 3 month trip to vietnam, he worked the crowd like he never left.
khingz followed in true khingz fashion! high energy from start to finish... young homie, kris jumped on stage to assist in an already fully charged set... i'm glad he joined the lineup!
d.black! my dude. d.black is going to be all over your ipod soon enough! daps spun for d and they killed shit. d.black is smooth as fuck on that stage. comfortable! he just moved across the set, and despite having his set cut short, he managed to give a FULL show! i hope to work with this brother more often... and soon (before he blow up too much)!
my turn. phat and i had a great time as usual. the crowd, which scared me at the beginning due to it's skinniness, grew to a sizeable bunch! hearing the northwest spit my lyrics back at me felt so good! i love the northwest, and plan to be up there more often!
after the show -- afterparty at bee's! the whole northwest/canada squad came through for a "filthy" good time! geo, daps and bam are officially animal lovers!
special thanks to bee for holding me down while i was doing the do...
sunday: usc. thank you for bringing me out...